VENOM PRISON have today announced a full UK and European tour as main support to Fit For An Autopsy. The uncompromising five-piece will head out on the road from May through to June; also joining the tour will be Vulvodynia & Justice For The Damned. Full dates are below.
After spending the first half of 2018 on the road – supporting Trivium around Europe, then an extensive US tour with Aborted – VENOM PRISON spent the end of the year working on their upcoming album. Working once again with producer Tom Dring at Vagrant Recordings, the band have already revealed that the new material is more "experimental and technical" than their debut. As yet untitled, the record will see a release this year via Prosthetic Records; more information will be available in due course.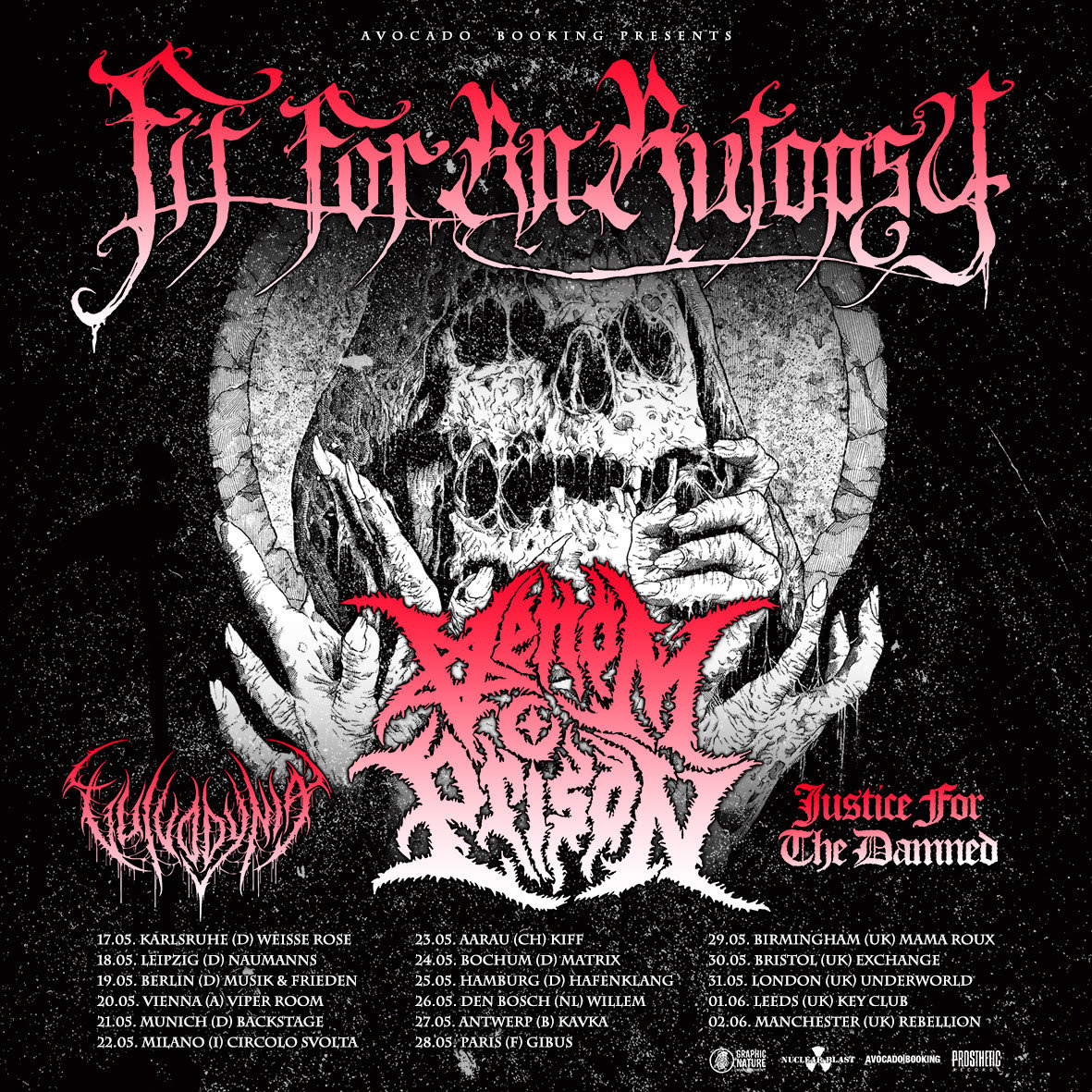 Fit For An Autopsy – Venom Prison – Vulvodynia – Justice For The Damned
17.05.19 Germany Karlsruhe @ Weiße Rose  
18.05.19 Germany Leipzig @ Naumanns  
19.05.19 Germany Berlin @ Musik & Frieden  
20.05.19 Austria Vienna @ Viper Room  
21.05.19 Germany Munich @ Backstage  
22.05.19 Italy Milano @ Circolo Svolta  
23.05.19 Switzerland Aarau @ Kiff  
24.05.19 Germany Bochum @ Matrix  
25.05.19 Germany Hamburg @ Hafenklang  
26.05.19 Netherlands Den Bosch @ Willem 2  
27.05.19 Belgium Antwerp @ Kavka   
28.05.19 France Paris @ Gibus   
29.05.19 UK Birmingham @ Mama Roux  
30.05.19 UK Bristol @ Exchange  
31.05.19 UK London @ Underworld  
01.06.19 UK Leeds @ Key Club  
02.06.19 UK Manchester @ Rebellion
ABOUT VENOM PRISON:
VENOM PRISON first pummelled the jugular of the underground with a self-released demo Defy the Tyrant in 2015. They continued to rip through the touring circuits of the UK and Mainland Europe following up with The Primal Chaos EP.  Once a steady and full line-up was established with the addition of bassist Mike Jefferies, the band then went on to release their debut full length Animus on Prosthetic Records. This propelled the band into the spotlight earning them the prestigious Metal Hammer Golden Gods award for best new band in 2017. With this recognition they continued their assault on the UK, Mainland Europe, North America and Canada with their energetic and passionate performances alongside many respected bands.
Watch VENOM PRISON videos:
Immanetize Eschaton music video
Corrode The Black Sun music video
Perpetrator Emasculation music video
Devoid music video
Glitch – Mental Heath and Touring Musicians
Venom Prison North America Part 1
Venom Prison North America Part 2